fren abel
physiotherapist
Fren completed her B.Sc. in Physiotherapy in the Philippines and she graduated from the Internationally Educated Physiotherapy Bridging Program at Ryerson University in 2010. Fren has focused on continuing her education in a variety of post graduate courses such as: McKenzie Method of Mechanical Diagnosis and Therapy A-D, Lyn Watson's Shoulder Course, Mulligan Concepts, APTEI, Soft tissue Release, GLA:D arthritis program, TMJ management, Concussion/Vestibular, Running Assessment, Pelvic Floor Level 1, and Acupuncture. She is always looking for opportunities to continue to enhance her skills by taking physiotherapy evidence-based courses to further benefit her clients and is an active member of the Canadian Physiotherapy Association and College of Physiotherapy of Ontario.
Fren has worked in a variety of healthcare settings including hospital, long-term care, home care, and private practice. She treats a wide range of conditions such as sports injuries, spinal, work injuries, post-operative and post fracture rehabilitation. Her mission is to work collaboratively with clients to help develop treatment plans that best align with their goals and provide the education and tools to take on their everyday physical challenges without limitations.
Outside of work, Fren enjoys reading a good book, cooking up a delicious meal, spending time at home with her family, and hiking with her dog Charlie.
wilaida corpuz-juanitez
physiotherapist
Wilaida is a passionate physiotherapist who believes in empowering patients to achieve their best possible functional ability.
She completed her Bachelors Degree in Physiotherapy in the Philippines in 1998. She has extensive training in both hospital and outpatient settings, specializing in orthopaedic, neurological and sports rehabilitation. She has been an active member of the College of Physiotherapists of Ontario since 2010.
Wilaida has also completed courses in Mulligan Manual Mobilization with Movement, Acupuncture and Dry needling, The Physical Therapy approach to Female and Male Urinary Incontinence, Female and Male Pelvic Pain and Biopsychosocial approach to Chronic Pain. She continues to further her professional development by staying current using evidence-based practices to provide the best outcomes.
In her free time she enjoys the outdoors, gardening and cooking.
lauren stuparick
registered massage therapist
Lauren has been an RMT for 16 years in the New Tecumseth area providing Therapeutic Massage Therapy treatments for all ages.
In her spare time she enjoys golfing, cooking and spending time with her family.
She is looking forward to helping with all your muscle aches and pains!
Kristy Konior
admin assistant
Kristy has worked in the Health Care industry for over 10 years and is very passionate about working with clients to help them reach their goals.
In her spare time she enjoys spending time with her family and dogs, gardening and cooking.
Kristy is thrilled to now be part of the AbCore Physiotherapy team.
Giulia Zanardi
physiotherapy assistant
Giulia is very passionate about sports and exercise. She graduated from the Fitness and Health Promotion Program in 2018 and is now completing her advanced diploma in Sport Management at Humber College. She loves working with clients to help them achieve their goals.
Giulia plays on the Humber Women's Varsity Team as an attacking midfielder/striker.
In her spare time she enjoys spending time with her family, going for runs and doing arts and crafts.
sandy suckling
physiotherapy assistant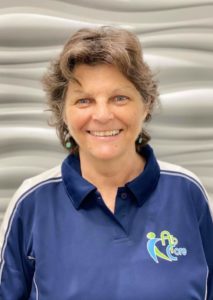 Sandy and her husband have lived in Tottenham for over 30 years, and together they have raised 3 children.
She originally started working as a Receptionist, but in 2001 Sandy was offered a job as a Physiotherapy Assistant. She found the work interesting and rewarding and never looked back.
Over the years she has upgraded her skills with various education programs and courses, her last one being "Falls Prevention Programming" through the University of Victoria.
Sandy is very pleased to now be part of the AbCore Physiotherapy team.