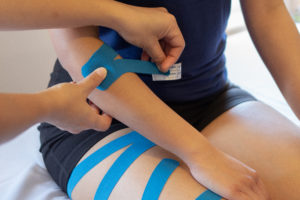 Kinesio taping is a form of therapeutic and rehabilitative taping commonly used by our physiotherapists to improve joint stability, enhance athlete confidence, reduce the risk of injury, and relieve pain.
This treatment involves taping over and around muscles in order to assist and give support to those muscles.
There are 2 different kinds of tape that are used by our physiotherapist: Rigid Tape or Elastic Tape.
It can be worn for several days per application, allowing an individual to receive therapeutic benefits 24 hours a day.
We use taping as part of a treatment plan that also includes rehabilitation exercises and other forms of treatment to help you achieve your goals.